Accommodation, Weddings, Conferencing and more at Cape St Francis, South Africa.
Experience the Beauty of the Eastern Cape.
Our Social Responsibility - Betty's tour
Cape St Francis Resort Cares
We invite you to share 3 unique and local experiences with us.

Penguin Rehabilitation Center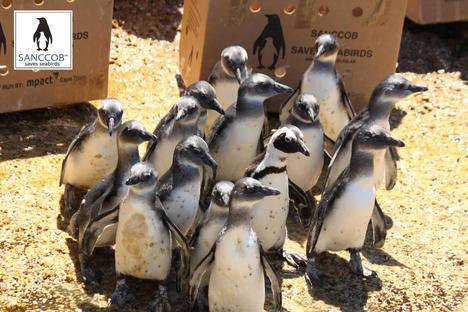 Depart from Cape St Francis Resort after breakfast. First stop... the Penguin Rehabilitation Centre. SANCCOB is at the forefront of saving African penguins and other threatened seabirds. Here the curator will spend time with guests to explain why the African Penguin is on the critical list. Marine Conservation statistics are also highlighted in this session. An opportunity to adopt a bird and name it is available. There is no entrance fee, but donations are always welcome.
Our next stop... The Talhado Children's Haven that was started to address the needs of disadvantaged children in the area of St Francis Bay. Pre-primary education and a safe place to play, under adult care, where needed. It has now grown into a formal pre-school and also serves as the social hub for the school children of our local community. We have the chance to interact with the children and may even enjoy their break time with them. Visit Website.

From here we proceed to our final stop n the tour... Nomvula's knitters. Nomvula's Knitters is a South African company with gorgeous knitwear for not only men, women and children but also for your home. Whether you're a novice or experienced knitter we have everything you need from fabulous patterns to a wide a variety of yarns. By simply purchasing a Nomvula product you will be helping the local community support their families through job creation, training, education and health. You can make a difference from as little as R250 per person.

Our port elizabeth guest house
We are situated in Newington Street, Richmond Hill on a quiet tree-lined lane, filled with historic and gracefully restored buildings. The peace of the picturesque neighbourhood belies its location in central Port Elizabeth where the heartbeat of the city pulses nearby and the main N2 highway that charters motorists in and out the Bay is but a few streets down.
The saying goes that in Port Elizabeth nothing is more than 15 minutes away and with Richmond Hill this most definitely rings true.
The waters warm, the sand is golden... and just a stone's throw away from your accommodation. Offering 3 stunning beach villas, swimming pool and the ultimate in beach living, Casa Malcampo based in the small fishing village of Tofo, is your ideal Mozambique holiday destination. For more information visit the Casa Malcampo website today! If a European holiday is what you're looking for then why not check out our stunning 5 bed Croatian Villa perched on the ocean's edge set on the island of Lastovo.
Using this site means you accept its
terms
| Copyright © 2018 Cape St Francis Resort, Cape St Francis, South Africa
| website by