Beach Break - Guest Houses and Exclusive Use
Slip into the lull of lavish oceanside accommodation
Tucked away in a quiet corner and straddling the sand dunes, the Cape St Francis Resort's 5-star Beach Break Villas epitomise luxury accommodation. Presenting phenomenal sea views, each of the six free-standing beach houses will meet your luxury getaway wishes, and are sumptuously styled with everything that's needed for a memorable holiday.

Skilfully designed to suit both large groups or couples, the villas are just a stone's throw away from the beach, providing Cape St Francis Resort accommodation where family and friends can enjoy a seaside holiday, or where couples can slip away on a romantic retreat for two.

All but one of the beach houses gives guests direct and private access to the sandy dunes of Seal Point Beach. Once you've unpacked, follow the path to ocean pleasure.
Indulgence, comfort and style
The villas feature en-suite bedrooms with both sea and garden facing views, as well as a swimming pool and roomy outdoor decks in their private gardens.

Inside, the free-flowing living spaces include lounges, and dining and kitchen areas fitted with comfy couches, fireplaces, modern cooking appliances, satellite TV, WiFi access, and table seating for large groups. Outside, the décor includes sun loungers, barbeques and patio furniture as well as al-fresco eating areas protected from the wind.

The Beach Break Villas are serviced daily and have on-site undercover parking bays or garages. Sand Piper, Fish Eagle and Nautilus Place have five double bedrooms, while Wave Worrier, Moonpath and Seagull's Song have four double rooms each.
The single room bed and breakfast deal
Individual Beach Break Villa rooms offer bed and breakfast accommodation, with your choice of garden or sea-facing views. All the rooms are generous in size with modern bathrooms, and include verandas for a spot of fresh air. You'll also have unrestricted use of communal areas in the villa such as the lounge and private swimming pool. Breakfast is prepared for you at the house and served in the garden, offering the opportunity to mingle with other guests.
We'll take the whole beach house, thanks
Exclusively reserved villas can be booked as self-catering accommodation or include meals, with bespoke packages tailored to suit individual guest preferences. Each luxury guesthouse has its own unique character and selling points, but all bring the magic of Cape St Francis to life. Here's what makes the individual Cape St Francis Resort's beach holiday villas special.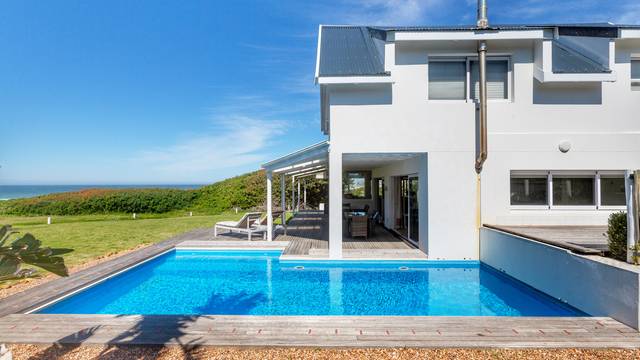 The Cape St Francis Resort 5-bedroom beach house collection
As tranquil as its name suggests, Sand Piper guesthouse is decorated in soothing, beachy shades. Windows and sliding doors are picture frames for nature, highlighting spectacular views of the beach, sea and indigenous garden. The main house has one bedroom downstairs and three upstairs, as well as a self-contained cottage above the garage. Three of the bathrooms feature bathtubs, and two of the upstairs bedrooms spoil guests with both garden and sea views.

It's special because: You can soak up superb sunset views from the cosy bar on the landing. Sand Piper also provides the most direct access to the beach, and sits happily in dappled sunlight for most of the day.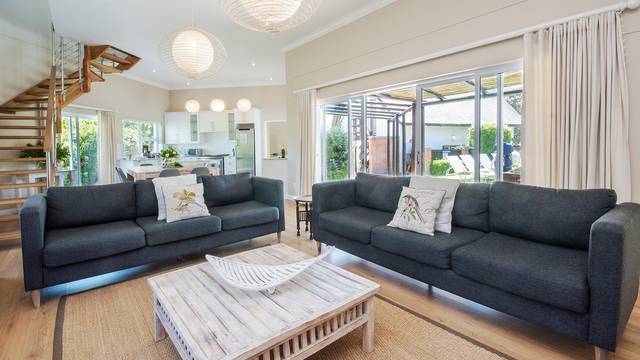 It's the perfect accommodation with a pool for an extended family holiday, flaunting a bohemian style that effortlessly matches barefoot beach playtime. There are generous areas for social get-togethers complemented by corners for quiet time, as well as an outside boma well protected from the wind. The two bedrooms upstairs offer gorgeous views of the beach, while downstairs one has an ocean view whilst two bedrooms spill onto the garden. Each bathroom has a mix of bath, shower or both.

It's special because: Room 5 has views that can't be beaten and you can lie in the bathtub while gazing out at Seal Point Lighthouse. Room 1 is great for a little romance with a 4-poster bed, epic seascapes and its own separate entrance.
If you need plenty of outdoor space then this luxury beach house is for you, with arguably the largest garden in the Cape St Francis Resort's Beach Break villa selection. Fish Eagle consists of a main house with four bedrooms as well as a self-contained one bedroom cottage with balcony. While upstairs panoramic sea views steal the show, downstairs is dominated by a large deck, immaculate kitchen, and outdoor bar area. Room 1 has a freestanding bathtub. All the other bathrooms feature showers.

It's special because: Fish Eagle feels like a group celebration where kids can swim and play safely in the large garden while adults mingle on the sunny upper deck. Family and friend time at its laid-back best. There's also a lovely little deck off the downstairs bedroom, sheltered by indigenous vegetation.
Beach Break is luxury Five Star accommodation consisting of five separate villas set on the edge of the dunes, overlooking the pristine Cape St Francis beach between Seal Point and Shark Point Nature Reserves.
The 4-bedroom Beach Break Villa selection
Wave Worrier and Seagull's Song
These twin beach houses bring contemporary style to a seaside holiday, where modern and light is offset by moody feature walls and antique-styled fireplaces. Both luxury villas have four bedrooms split equally between upstairs and downstairs, each with a deck or balcony. The houses take full advantage of having sand dunes virtually on their doorsteps, and there's a natural flow between indoor and outdoor living. You'll love the sheltered outdoor areas with easy access to the kitchen through wide sliding windows. Bathrooms have a mix of bath, shower or both.

They're special because: Look for the outside ladder and clamber up to the roof. We're willing to bet you've never experienced viewing decks quite like these. Don't forget your camera or phone to snap some epic beach holiday shots.
Just as sure as the moon sways the tides, this enchanting beach house will entice you with its incredible sea views. It's the latest addition to the Beach Break Villa collection and projects its own beachy zen vibe, with three bedrooms and pyjama lounge upstairs and an open plan living, dining and bar area on the ground floor. A fourth downstairs bedroom has quick access to the pool deck and sun loungers. All the bathrooms but one are fitted with both a bath and shower.

It's special because: It's the youngest child in the Beach Break bunch, waiting for your luxury beach holiday memories to mould its character. But that's not all folks, just wait until you're unwinding on the outside loungers while watching the waves from the garden.
Each villa has the following facilities:
Lounge with DSTV

Dining area

Lock-up parking

Barbecue

Fridge/freezer

Stove

Dishwasher

Balcony with sea view

Swimming pool

Tea/coffee making facilities

Hairdryers

Heaters

Patio loungers and chairs

Fully equipped for self-catering

Access to wi-fi

All rooms have flat-screen television sets

All Villa's have built-in fireplaces
General Resort Facilities:
Reception hours are seasonal , summer from 7am to 7pm and in winter 7,30 am to 6pm.Normally closing earlier on Sundays

Room Service in conjunction with restaurant trading hours

Joe's Bar trading hours are seasonal. Joe Fish Restaurant: 400m from Villa, a short distance to walk! Full Stop Café is generally closed on Sundays and Mondays out of season

Function Venue for all special celebrations and business requirements.

Baby Sitting by knowledgeable staff, available by prior arrangement, at a nominal fee per hour.

Luggage assistance and luggage storage facility.

Fax and photocopy facility.

Available to Guests: Airport transfers, Shuttle: local points of interest, Car rental, Foreign Exchange. Gym The Pound within walking distance. Swimming, aqua -fit Centre for all ages. Liquid Lines, indoor pool. Just down the road.
Spa Facility: Hibiscus Health and Beauty Studio on site.


Beauty Therapy: On-site Hibiscus and hair stylists are available.

Medical Assistance: Doctor/Dentist/Chiropractor available in St Francis Bay.

Much to do: Canal cruises: with the Resort's own luxury boat, Sunset picnics: with sufficient notice, this will be easily arranged, Bicycle hire, Dolphin and whale watching (seasonal) Surfing lessons, Fishing, Horse Riding, Jogging trails, Golf courses, Squash Court, Tennis Court, Nature Trails, Meet the locals, Local working harbour: Chokka fishing hub, Community projects: Nomvula's knitters, Lighthouse Tours

Dining: Our very own seafood and steak specialist Joe Fish and Full Stop Café specializing in pizzas and gourmet burgers , great for youngsters
Beach Break
Village Break
Club Break
Facilities
Exit Close
Sand Piper
Nautilus Place
Seagull Song
Fish Eagle
Moon Path
Lighthouse
Sunset
Green-Pepper
Yellowood
Milkwood
Thyme
Tarragon
Unit 77
Unit 70B
Unit 54
Unit 35
Unit 70A
Our port elizabeth guest house
We are situated in Newington Street, Richmond Hill on a quiet tree-lined lane, filled with historic and gracefully restored buildings. The peace of the picturesque neighbourhood belies its location in central Port Elizabeth where the heartbeat of the city pulses nearby and the main N2 highway that charters motorists in and out the Bay is but a few streets down.
The saying goes that in Port Elizabeth nothing is more than 15 minutes away and with Richmond Hill this most definitely rings true.
The waters warm, the sand is golden... and just a stone's throw away from your accommodation. Offering 3 stunning beach villas, swimming pool and the ultimate in beach living, Casa Malcampo based in the small fishing village of Tofo, is your ideal Mozambique holiday destination. For more information visit the Casa Malcampo website today! If a European holiday is what you're looking for then why not check out our stunning 5 bed Croatian Villa perched on the ocean's edge set on the island of Lastovo.
Using this site means you accept its
terms
| Copyright © 2023 Cape St Francis Resort, Cape St Francis, South Africa
| website by