Joe Fish Restaurant and bar
Whether it's a quick snack before hitting the beach or a full 3 course fine dining experience, the award winning pool side Joe Fish restaurant and bar is the perfect place to sit back, unwind and enjoy the extensive food menu and wine list.

Situated around the inviting swimming pool, Joe Fish restaurant and bar at Cape St Francis Resort offers seating for up to 110 guests. Diners can expect to choose from an array of tempting dishes such as the famous calamari (which has won awards), marinated ribs, perfectly cooked fillet steak, Joe's Hake and chips, and for the very hungry why not try the tasty crispy eisbein?

If you're after a snack Joe's snack baskets are the perfect option offering calamari, ribs and hake bites all accompanied with chips.

The impressive wine list offers reds, whites, rose and champagne to suit all budgets. A great choice is Joe's own wine (which has also won awards).
"Thanks again for a superb evening that was thoroughly enjoyed by all. The food was top class and the service excellent."

Peter Osborne, CBF Motors
Whether you want to eat in the restaurant, pub or by the pool (there is free live entertainment every Sunday), Joe Fish is an excellent, child friendly environment to relax, chat and enjoy some great food and wine.

Joe's bar with it's cosy, relaxing evironment and roaring log fire offers 2 flat screen televisions making it the perfect place to watch all the latest sport!

Opening hours: Open from 8am every day.
Capacity: Seats 90 inside and 110 outside.

Freshly ground coffee is our speciality at The Coffee Shack

The latest addition to Joe Fish is 'The Coffee Shack'. With comfy sofas, warm wooden surrounds and over looking the swimming pool, The Coffee Shack offers a wide selection of coffees, teas, home bakes and light meals. Using 100% Arabica beans, the trained baristas create the perfect coffees including favourites such as Americano, Cappuchino and Macciato. The reason for using this particluar type of coffee bean is that is an African fair trade venture ensuring all people involved are paid fairly. For the non coffee drinker, a great selection of flavoured teas to choose from are available, and why not treat yourself to a slice of home made cake to go with it!

For a truly unique South African experience why not hire the new wooden boma...

The new beautifully constructed wooden Boma at Cape St Francis Resort is the perfect setting for an intimate gathering. Completed at the end of November 2014, the Boma offers seating for upto 50 guests and with its own bar and large braai (barbecue) you can sit back, relax and enjoy the privacy with friends, family and colleagues!

Whether it's a birthday, work function, team build or just a get together, there is no better place to choose. A variety of menu options are available and include your very own private chef.

Situated within the heart of Cape St Francis Resort, the Boma is within easy walking distance of other on site facilities such as the award winning Joe Fish Restaurant and Bar, Swimming pools and 'Hibiscus' health and beauty studio. It is also a short walk to the pristine beach of Cape St Francis.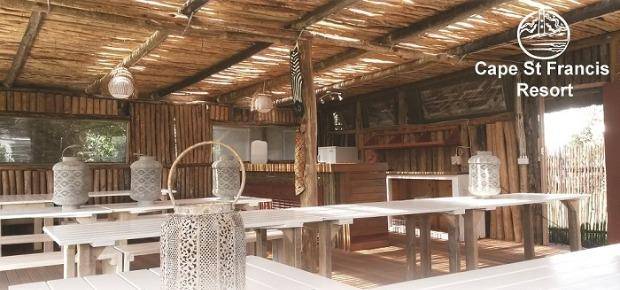 ---
"Just to say a big thank you to you and your staff for our super lunch. All the SAARP members thoroughly enjoyed themselves the food and music were great, the setting is beautiful and it was so good to even see a few of the elderly ladies dancing, albeit right near the pool !!Thanks again and hopefully we can do it again some time."

Paulene

Beach Break
Village Break
Club Break
Facilities
Exit Close
Sand Piper
Nautilus Place
Seagull Song
Fish Eagle
Moon Path
Lighthouse
Sunset
Green-Pepper
Yellowood
Milkwood
Thyme
Tarragon
Unit 77
Unit 70B
Unit 54
Unit 35
Unit 70A
Our port elizabeth guest house
We are situated in Newington Street, Richmond Hill on a quiet tree-lined lane, filled with historic and gracefully restored buildings. The peace of the picturesque neighbourhood belies its location in central Port Elizabeth where the heartbeat of the city pulses nearby and the main N2 highway that charters motorists in and out the Bay is but a few streets down.
The saying goes that in Port Elizabeth nothing is more than 15 minutes away and with Richmond Hill this most definitely rings true.
The waters warm, the sand is golden... and just a stone's throw away from your accommodation. Offering 3 stunning beach villas, swimming pool and the ultimate in beach living, Casa Malcampo based in the small fishing village of Tofo, is your ideal Mozambique holiday destination. For more information visit the Casa Malcampo website today! If a European holiday is what you're looking for then why not check out our stunning 5 bed Croatian Villa perched on the ocean's edge set on the island of Lastovo.
Using this site means you accept its
terms
| Copyright © 2021 Cape St Francis Resort, Cape St Francis, South Africa
| website by